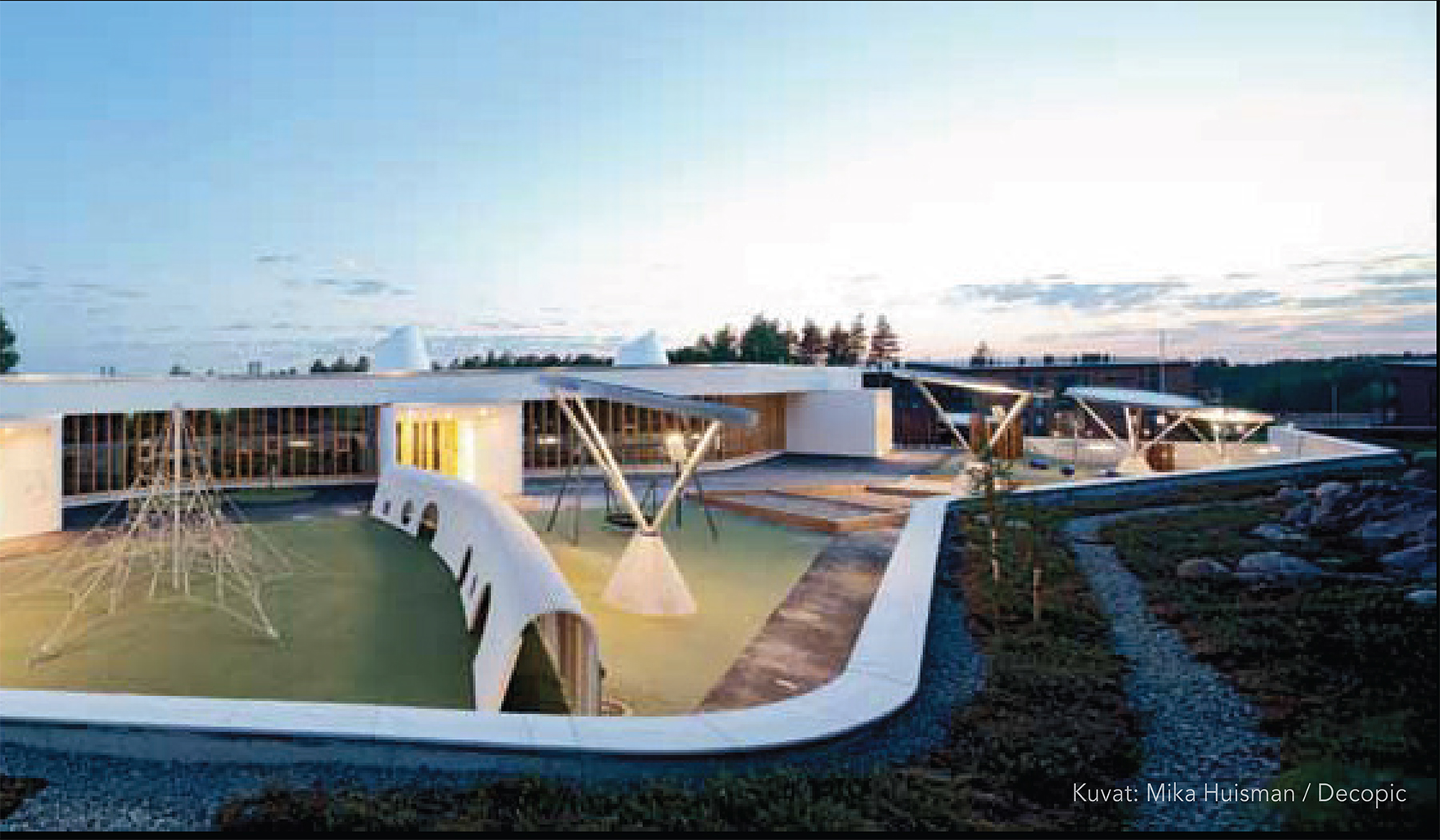 Designer: Ramboll Talotekniikka Oy, Sara Leino
Year: 2010
City: 02330 Espoo
Country: Finland
Architect: JKMM Arkkitehdit, Samuli Miettinen
Electrical: Ramboll Talotekniikka Oy, Markus Hyyppä, Ari Hyvönen
Constructor: Espoon kaupunki, Kiinteistöpalvelu
Contractor: Humaliston Sähkö
Concept Description
Outdoor Lighting project of the Year 2011 in Finland Lighting design started in early design phases of the project and therefore, lighting solutions were developed smoothly together with other designers as part of the complex structure of the building. All lighting solutions are aimed to create a safe and sustainable atmosphere that serves well end-users's needs.
Outdoor lighting solutions take in account the scale of the building and the playground as well as the shapes and the rhythm of the architecture , dimensions of the dynamic of light and hues. Meandering and round shapes of the terrain and outdoor furniture were the key elements of the outdoor design composition; they are emphasized by carefully selected optical properties of the lighting equipment.
To cater for the homely and safe atmosphere the selection of light sources as regards to their wattage, colour rendering index and colour temperature were carried out in conjunction with the selected surface colours and their reflectances. The outdoor lighting is created by two components: indirect and direct lighting.
Indirect lighting is promoted because of the need of esthetically pleasing quality of light and the need to avoid glare. Direct lighting is composed by two elements: warm white light from three-dimensional entrance canopies and cool white light reflected from the solid wall-like fence the surrounds the playground. Luminaires are integrated to the fence structure creating together an esthetically and techically pleasing and safe surroundings for the dark hours of the day.
Big variations in ground levels is supported by light-coloured structures that operate as big light reflectors creating positive but moderate brightness levels into the field of view. Light pollution is minimized by accurate selection of luminaire optics and the direction of light according to reflection.
Lighting technology used in this project was selected on the basis of photometric and esthetic quality in addtion to energy efficiency, sustainability and durability in this heavy-duty environment.

Photographer: Mika Huisman, Decopic